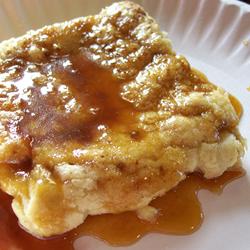 Ingredients
Edit
6 eggs
1 cup milk
1 cup all-purpose flour
2 tablespoons butter, melted
1 1/2 cups white sugar
3/4 cup buttermilk
1/2 cup butter
2 tablespoons light corn syrup
1 teaspoon baking soda
2 teaspoons vanilla extract

Directions
Edit
Preheat oven to 400 degrees F (200 degrees C). Grease a 9x13 inch baking pan with the melted butter.
Place eggs, milk and flour in a blender and whip until smooth. Pour into prepared pan.
Bake in preheated oven for 20 minutes, or until golden.
In a small saucepan, combine sugar, buttermilk, butter, corn syrup, baking soda; boil for 7 minutes. Remove from heat and stir in vanilla. Spoon over slices of pancake.
Ad blocker interference detected!
Wikia is a free-to-use site that makes money from advertising. We have a modified experience for viewers using ad blockers

Wikia is not accessible if you've made further modifications. Remove the custom ad blocker rule(s) and the page will load as expected.